Ways of Finding Out if Your Physician Has a Criminal Record or Been Disciplined
Questionabledoctors.org
- Contains data on doctors disciplined by state medical boards and federal agencies in 13 states over the past ten years, including actions taken for medical incompetence, misprescribing drugs, sexual misconduct, criminal convictions, ethical lapses and other offenses. Charges $10 month for a three month subscription and ten reports, but lets you search a doctor's name before you pay. Sea4rch alphabetically by a doctor's last name or by state in which the disciplinary action was taken.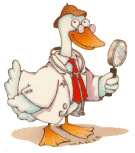 Quackwatch.com - Operates a growing list of websites aimed at combating health-related frauds, myths, fads and fallacies, including dentalwatch.org, homeowatch.org, chirobase.org, and nutriwatch.org. Reports on actions by state and federal agencies. Affiliated with the National Council Against Health Fraud, which also distributes a free weekly e-mail newsletter.
Federation of State Medical Boards Umbrella group for all state medical boards as well as 13 state boards of osteopathic medicine. Provides Web addresses, mailing addresses, and phone numbers for state boards. Will search for disciplinary history of specific physicians for consumers for a fee of $9.95 per report.
Administrators in Medicine - Free site containing licensing background, malpractice, criminal conviction and disciplinary information on physicians and other health care practicioners from state government licensing boards.
Pennsylvania's Bureau of Professional and Occupational Affairs oversees the licensing of doctors through the state Medical Board and the Board of Osteopathic Medicine. To learn whether a Pennsylvania physician has been disciplined, go to www.dos.state.pa.us/bpoa
Other states, review the Administrators in Medicine web site: www.aimmembers.org/boarddirectory/
To better understand a doctor's credentials, see: www.docboard.org